Our Faculty
Mission
"Within the scope of sustainable management and supervision of all products and functions related to forest, environment and other natural resources, the mission of Faculty of Forestry is to incorporate local, national and international knowledge produced into education and practice, to train individuals who follow the codes of ethics and work for the public weal, to raise the awareness of the public, to enhance the contribution of resources to societal sustainability and to lead to these kinds of developments. "
Vision
"To be a leader faculty in developing policies regarding its mission, establishing trust for quality in education, whose graduates are in priority, whose employees, students and graduates are integrated with the society, which creates interdisciplinary synergy and establishes corporate relation with national and international world of science and technology."
Forestry Education in Turkey began on November 17th, 1857 under the leadership of Institute of Forestry which was founded in Istanbul. The education language is French in the school which was founded by the French. The education continued at Orman ve Maadin Mektebi ( Institute of Forest and Mines) from the date July 11th, 1880 and it continued at Halkalı Ziraat Yüksekokulu (Halkalı Agriculture Academy) from the year 1893 then name of the school was changed as "Halkalı Ziraat ve Orman Mektebi Alisi"(Halkalı Agriculture and Forestry Academy) in 1903. "Orman Mektebi Alisi" (Forestry Academy) was founded by the separation of the Forestry education in 1910. The location of the school changed many times in various dates, in 1922 the school was relocated to its place, Bahçeköy, Istanbul which includes the previous building of the school where the education is still going on today.
In 1926, the management of the school turned into Rectorship instead of Directorship, thus; it became the first time for a faculty to be managed by Rectorship in the history of Turkish Higher Education. Ahmet Emin, Neşet Bey and Mahzar Diker were respectively in charge until the year, 1934.

​
Faculty of Forestry joined Ankara Yüksek Ziraat Enstitüsü ( Ankara Agriculture Academy) as the fifth Faculty under the law of University Reform in 1934. Faculty of Forestry gained its academic identity entirely and initiated scientific research studies about various forestry topics. The first doctorate work was completed in 1947.
Faculty of Forestry joined Istanbul University by being transported to Istanbul upon the closure of Ankara Yüksek Ziraat Enstitüsü (Ankara Agriculture Academy) in 1948. Being united to Istanbul University, and thereby making the improvement process of the Faculty faster, Faculty of Forestry made much more academic and scientific works in the body of such a well- established university. Between the years 1948 and 1961, education and training was conducted by faculty members and assistants who are available at thirteen programs. The number of programs was increased to fifteen between 1973 and 1981.
There was an important change in Forestry High Education in 1975 which was the beginning of "Undergraduate", "Postgraduate" and "Doctorate" levels of education. The degree "Forestry High Engineer" which was given to the students who complete their four-year Forestry High Education was abolished beginning from this date and "Forestry Engineer" degree was started to be given. Postgraduate education in Faculty of Forestry took place at Silviculture Program for the first time in 1980-1981 school year. Institutes and Programs were abrogated with the law of High Education, instead new units were constituted as "Branch" and "Department".
What is Herbarium?
Herbariums are plant collections which are picked scientifically, desiccated, organized and they create the basis of floristic-systematic works. Herbariums are effectuated to be used with educational and scientific purposes.
How to pick a plant which is going to be taken to Herbarium?
Sample of the plant which is supposed to be picked must be in a size of press for woody plants and for herbaceous plants, it must be a whole plant including its roots. The plants should be picked as flowery and fruity as possible. Besides, it is important to write down number of the plant, the place where the plant was picked (province, district, habitat, aspect, height, position), colour of the flower, shape of the plant; its being upright or pouty and characteristics like these also the date on which the plant was picked and name/s of the person/people who picked the plants. It is the land registry that should be used to be able to write down all the characteristics of the plant, related characteristics should be written across the numbers of the plants. A little sized cardboard on which number of the plant is written should be fastened to the plant by a rope.
How to dry a plant which is going to be taken to Herbarium?
To dry the picked plants, special dryer papers are used (e.g papye papers) and in case of their absence, newsprint can be used as well. Plants which are carefully placed into the papers in a way that organs of the plants will not overlap each other are put between the presses. Plants that were fastened by compressing of fabric straps, can be desiccated by locating them somewhere which has wind, sun or near a heater. Dryer papers should be changed every day in the earlier stages; then, it should be switched to every other day. Straps of the dried plants can be loosened.
How to take a desiccated plant to Herbarium?
The processes of the plants which were picked from terrain in Herbarium: After a plant that is suitable for Herbarium (well desiccated, fruity, flowery or coniferous) is disinfected or deep frozen at -25°C, it is stuck on a cardboard, it is given a number from record book along with Herbarium stamp and it is placed in cabinet by being identified and labelled.
History of ISTO Herbarium
Faculty of Forestry Herbarium was founded in 1950 with an aim which involves determining natural forest, tree, bush and soil flora of Turkey and figuring out detailed ınformation about their spread and it was named as "Herbarium Turcicum". Afterwards, the name was changed as "Herbarium Bahçeköy" in 1960. January 1st, 1956 was the beginning of its taking part among the International Herbariums and it took the name "ISTO" at Index Herbarium. The samples which were preserved in wooden wardrobes at a big saloon of the Program, were transferred to the new constructed building and introduced with an international symposium in the 50thanniversary of our Republic.
What is in ISTO Herbarium?
From the date it was founded to today, ISTO Herbarium made progress in terms of the numbers of its samples as well as opening of its new constructed building. Staff of the department, research studies of the Faculty and intern students made contrıbutions to the number of desiccated plants which has exceeded 30.000 now. Another outstanding feature of the Herbarium is that foreign collectors left equivalent samples of 6000 plants which they picked from different areas of Turkey to the Herbarium. P. H. Davis, who is editor of the 10 series great work named " Flora of Turkey", is one of these people.
Herbarium Library
Samples of Herbarium placed into 96 steel wardrobe in accordance with the Wettstein system. Herbarium consists of six sections; three of them for plants, two of them for working and one for disinfestation. Subgroups are placed according to Wettstein system; such as kind, species, subspecies and variety and taxa is alphabetically placed.
Four card indexes were organized with the intent of providing convenience to the staff of Herbarium. These are the samples that were given ISTO as gift by foreign collectors, a floristic card index which shows each plant on the basis of the province to which it belongs was prepared with respect to the flora of Turkey and card indexes which that shows systematic works. The samples which are taken to herbarium can be gathered in three groups. The first one involves the natural plants, bushes and herbaceous plants in green covers in Turkey, second one involves the exotic samples in yellow covers (materials which are provided from other countries as comparison samples) and the third one involves the samples of Typus which are in orange coloured covers. (First sample: it is the plant sample that was analysed during introducing first name of the kind and ISTO Herbarium has 58 number samples.) Our herbarium, which has a special library and lecture hall, also has a slide collection that is used during student practices and conferences.
Atatürk Arboretum and its History
Arboretums are pieces of nature where carefully and correctly gathered plant taxa, mostly trees and woody plants, and which are identified in terms of origin-age are raised and displayed in properly selected areas with the aim of scientific research studies and observation. From a different point of view, herbariums are alive plant museums which are formed and organised with knowledge, labour and patience and which are heavily used for scientific and educational purposes.
Foundation traces of Arboretum on earth go beyond the centuries and functions of them diversify in many aspects. These are; making contributions to raise awareness of protecting environment by giving education to public and the students for each grade, from primary school to university. Besides, it is duty of Atatürk Arboretum to introduce people to the exotic and endemic plants which are gathered all around the world under the convenience of climate without the need for expensive and long journeys and to give the opportunity to select the ones which have adornment value among them, to take the endangered species under protection, to make studies about adaptability of foreign origin species to our country.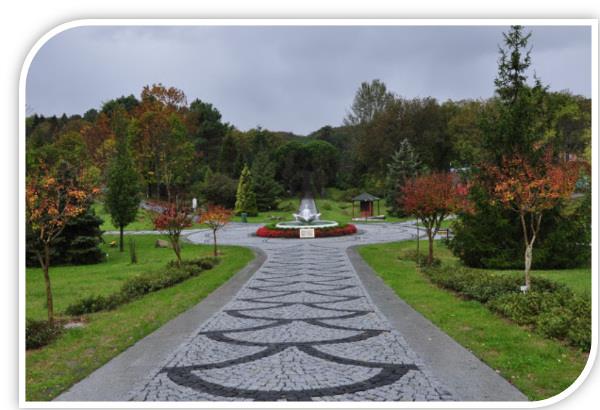 ​The main purpose of Atatürk Arboretum is to provide service as an alive laboratory to make examinations especially for faculty members and students of Istanbul University, Ministry of Forestry engineers and the related institutions within the body of Forestry, landscape architectures, other faculties and other research institutions, native and foreign scientists, nature lovers.
Atatürk Arboretum is located on 296 hectare of forest piece in the southeast of famous Belgrade Forest, which is in the district of Sarıyer and which has appealed to lots of foreign and native botanists with its floristic richness. Atatürk Arboretum, Atatürk which embodies Kirazlıbent that was constructed during the period of Ottoman Empire and the first plantation founded by the Lecturer Neşet (1916), is in collaboration with other arboretums and botanical gardens on earth about supply of seed and sapling.
Arboretum, which is a forest sub-district directorate affiliated to Bahçeköy Forestry Management Directorate of Istanbul Forest District Directorate of General Directorate of Forestry, is managed by an advisory board. Academic authority belongs to Faculty of Forestry of Istanbul University, administrative authority and the source of ownership-finance belongs to General Directorate of Forestry.
History
Upon the acceptance of the idea proposed by Forestry faculty member, Prof. Doctor Hayrettin KAYACIK, about founding an arboretum in Bahçeköy by General Directorate of Forestry in 1949, foundation works of arboretum got started on an 38- hectare area which is near an asphalt in Büyükdere – Bahçeköy- Kemerburgaz. Thereafter, Monsieur Camille GUINET who is one of the inspectors of botanical garden of Sorbon University, was invited to Istanbul to prepare the project of arboretum. Studies of Mr. GUINET continued intermittently between the years 1959 and 1961 and they provided a way for the planning of Atatürk Arboretum. Since necessary funds couldn't be supplied, preparations of project was left half- finished and the remains from Mr. GUINET'S works are world plant areas which are separated from each other by roads and involve road network. Besides, he left a regulated list which contains Latin names of the plant species which are going to be placed in the units.
Until the year 1982, infrastructure and planting works slowed down, but still continued. Arboretum took the name "Atatürk Arboretum" on this date because of the celebrations of Atatürk's 100th year of birth and it gained the status of forest sub-district directorate which is the smallest administrative unit of Ministry of Forest on July 12th,1982.
Visit – Photograph & Film Shooting
Current entrance fees of Atatürk Arboretum for 2016
Film, Advertisement and all kinds of video related shootings – 5000 TL + VAT (value added tax)
Photograph , Catalogue and similar professional photo shootings – 3000 TL + VAT
Bride, Engagement, Circumcision feast child – 350 TL + VAT
Note: It has been decided that visitors should make an appointment by calling the number -0212 226 19 29- for Circumcision, Bride and Engagement photo shooting which will be executed at weekends. It is kindly requested that visitors obey this rule in order to avoid any misunderstandings.
Entrance for students 2 TL, for other visitors 5 TL on weekdays.
Entrance for students 5 TL, for other visitors 15 TL at weekends and for other public holidays.
Because of its exceeding visitor capacity during recent years, Atatürk Arboretum is closed on Mondays for visitors with the decision of advisory board, with the purpose of cleaning and repairing. Regarding increasing numbers of visitors, it has been decided that all kinds of food (except baby food), alcoholic and alcohol free drinks (except water), pets, triport, bicycle, ball, kite, confetti and all the other plays and toys which are proper to be used in open public space are banned within the boundaries of Atatürk Arboretum. Atatürk Arboretum decided not to allow any kind of costume and shooting stuff which can be used during catalogue shootings inside Arboretum with the intent of preventing illegal commercial shootings also kinds of remote controlled multirotors (tricopter, quadcopter, hexacopter, octocopter etc.) which are able to make photo and film shootings over the air are banned inside the Arboretum.​


In order to provide a different aspect for International Relations of our Faculty, it became an associate member of European Forest Institute (EFI) on April 1st, 2009.​
EFI associate members have the rights to determine the institutions which are responsible for management of EFI. EFI has 129 members from 37 countries, one of them is from Turkey; Poplar and Fast Growing Forest Trees Research Institute.
Associate Prof. Doctor Kenan OK is the one who is responsible for the coordination of EFI relationships with our Faculty. Effectiveness of EFI is increasing especially in European Union. EFI has a lot of opportunities such as making mutual research projects, creating collaboration, scholarship, communication etc. More detailed information can be reached from website of EFI.
By public transport:
42T Taksim- Bahçeköy (Taksim-Beşiktaş-Ortaköy-Bebek-İstinye-Tarabya-Çayırbaşı-Bahçeköy)
42M Zincirlikuyu Metrobüs Durağı-Bahçeköy (Zincirlikuyu-4. Levent Metro-Maslak-Orman Bölge Müdürlüğü- Hacı Osman-Çayırbaşı-Bahçeköy)
153 Sarıyer-Bahçeköy (Sarıyer-Büyükdere-Çayırbaşı-Bahçeköy)
42HM Hacı Osman Metro – Bahçeköy (Hacı Osman Metro-Çayırbaşı-Bahçeköy)
59RK Rumeli Hisarüstü – Boğaziçi Üniversitesi – Sarıtepe Kam. – Arıköy
By car: : (Maslak-Sarıyer İstikameti-Orman Bölge Müdürlüğü-Hacı Osman-Orman İçi Bahçeköy Kilyos Yolu-Bahçeköy)
CONTACT:
P: +90 (212) 338 24 00 (40 Lines)
F: +90 (212) 338 24 24 – +90 (212) 226 11 13
Address: İstanbul University Faculty of Forestry (34473) Bahçeköy Sarıyer – İSTANBUL – TURKEY
E-mail: orman@istanbul.edu.tr
Dean : 25204 – 25100
Vice Dean : 25204 – 25100
Vice Dean : 25204 – 25100
Secretary of Faculty : 25203
Artvin Çoruh University Faculty of Forestry
Bartın University Faculty of Forestry
Bursa Teknik University Faculty of Forestry
Çankırı Karatekin University Faculty of Forestry
Düzce University Faculty of Forestry
İzmir Katip Çelebi University Faculty of Forestry
Kahramanmaraş Sütçü İmam University Faculty of Forestry
Karabük University Faculty of Forestry
Karadeniz Teknik University Faculty of Forestry
Kastamonu University Faculty of Forestry
Süleyman Demirel University Faculty of Forestry